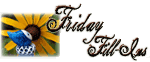 1. My favorite food seasoning is
hmmm..hard to pick one. Depends on the dish. I like oregano, curry, thyme...the list goes on
.
2.
My boys in the yard pretending
is music to my ears.
3. Lucky is
someone who gets to listen to her boys in the yard pretending almost every day
.
4.
Having a decent variety of Halloween treats available
is something I take very seriously.
5. Many people
worry too much about their kids eating candy, especially at Halloween
.
6.
Halloween candy
was the last thing I bought at the store. (
There's a theme here)
.
7. And as for the weekend, tonight I'm looking forward to
trick-or-treat joy
, tomorrow my plans include
watching my oldest play soccer and walking with a friend
and Sunday, I want to
clean out my garden and watch my youngest play soccer. LAST GAME
!